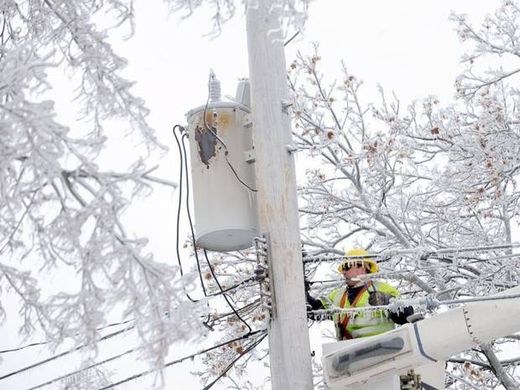 Repair crews worked around the clock Tuesday to restore power to nearly half a million customers who faced a cold and very dark Christmas Eve in parts of the central and northeastern United States and into eastern Canada after a weekend ice storm. At least 24 deaths have been linked to the storm.
The US National Weather Service said more snow was expected to move into the Northern High Plains and Central Rockies on Tuesday before rolling into the Great Lakes and Midwest by Wednesday morning.
In Canada, five people were reported dead from apparent carbon monoxide poisoning. Police said two people in Ontario died after using a gas generator to heat their blacked-out home northeast of Toronto. Police in Quebec said carbon monoxide poisoning was believed to be the cause of three deaths in a chalet on the province's North Shore. Earlier, five people were killed in eastern Canada in highway crashes blamed on severe weather conditions.
In the US, the nationwide death toll from the storm reached at least 14 on Tuesday, when a 50-year-old man in Knox, Maine, was overcome by carbon monoxide fumes from a generator. It was the second reported death attributed to fumes from a generator during the storm. Police in Michigan also attributed two deaths in a traffic collision that happened Monday to the storm.
As temperatures plunged into the low single digits (below minus 15 Celsius) in Toronto - where some 90,000 customers remained without power Tuesday - authorities reported a dramatic jump in calls for suspected carbon monoxide poisoning, responding to 110 calls in a 24-hour period. Officials said they typically see 20 such calls a day.