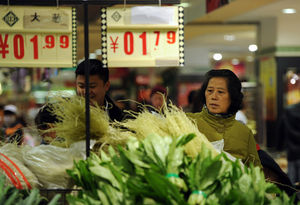 China's inflation accelerated more than forecast to a seven-month high as the nation's coldest winter in 28 years pushed up vegetable prices, a pickup that may limit room for easing to support an economic recovery.
The consumer price index rose 2.5 percent in December from a year earlier, the National Bureau of Statistics said today in Beijing. That compares with the 2.3 percent median estimate in a Bloomberg News survey of 42 economists and a 2 percent gain in November. The decline in the producer-price index eased to 1.9 percent.
Chinese stocks headed for the biggest drop in eight weeks on concern that the quickening in inflation makes further policy loosening less likely, after data yesterday on exports and credit growth underscored the strength of the economic rebound. Chen Yulu, a central bank academic adviser, said Jan. 8 that price gains may become a concern in the second half.
"With growth momentum firming up and inflation picking up, the likelihood of any further easing has disappeared and the next interest-rate move will probably be an increase," which could come as early as the fourth quarter, Zhu Haibin, chief China economist at JPMorgan Chase & Co. in Hong Kong, said in a telephone interview.