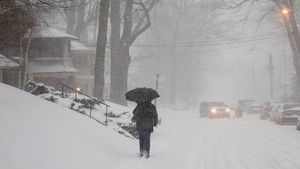 The worst of a winter storm into southern Ontario landed during morning rush hour, covering the region in a white shroud of snow flurries and sleet, forcing schools to close and disrupting land and air traffic. (For a list of school closures, transit delays and flight information,
click here.
)
Other vehicles were reported to be stuck in snowbanks, in ditches or blocking lanes after spinning out of control. At the Bayview entrance of the southbound Don Valley Parkway, cars had trouble negotiating the icy in-ramp. The DVP's Bayview off-ramp was reported to be closed because of slippery conditions. On Highway 401, the eastbound collector off-ramp at Allen Road was also closed because of the road conditions.
On the Queen Elizabeth Way, near Fort Erie, a snowplow fell into a ditch and, a few kilometres further north, a salter truck had rolled.
More than 150 highway car collisions had been reported
, said Ontario Provincial Police Sergeant Dave Woodford.
There were only minor injuries, mostly from fender benders, he said.