Blizzard warnings issued in New Mexico, Texas, Oklahoma and Kansas.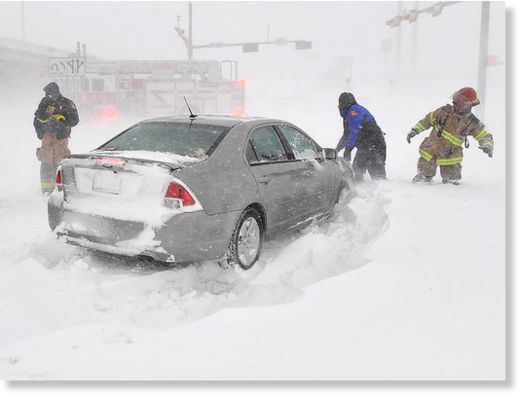 A ferocious blizzard blasted the southern Plains with heavy snow and high winds Monday, burying much of the Texas and Oklahoma Panhandles under more than a foot of snow, wreaking travel havoc on the roads and in the air.
Overnight Monday and through the day Tuesday, the storm will slowly slog to the north and east, bringing a swath of snow across Kansas, Missouri, Illinois, Wisconsin and Michigan, the National Weather Service reported.
"This storm will have a huge impact, with additional heavy snows likely over portions of eastern Kansas and northern Missouri which received very heavy snowfall amounts last week," weather service meteorologist Robert Oravec wrote in an online bulletin.
The storm is being blamed for two deaths on Monday. In northwest Kansas, a 21-year-old man's SUV hit an icy patch on Interstate 70 and overturned. And in the northwest town of Woodward, Okla., heavy snow caused a roof to collapse, killing one inside the home.
Among the big cities that will see accumulating snow Tuesday are Kansas City, Chicago, Milwaukee and Detroit, according to AccuWeather. The heaviest snow is forecast Tuesday around Kansas City, which should easily see a foot of snow. Chicago should receive about 3-6 inches of snow.
The storm will continue to dump snow across the Lower Great Lakes region Tuesday night and into northern New York State and northern New England on Wednesday, Oravec says.