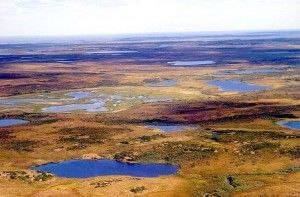 Sebastian Lüning's and Fritz Vahrenholt's
Die kalte Sonne site today
writes about a new peer-reviewed study that shows that the Arctic is not warming quickly after all. For years alarmist scientists have told us that nowhere is warming happening faster than in the Arctic. Wrong again!
A study by an international team of scientists led by Germany's Potsdam-based Alfred Wegener Institute was published in September in the journal
Palaeogeography, Palaeoclimatology, Palaeoecology
. It's a temperature reconstruction from the Siberian Arctic. By examining pollen, the scientists were able to determine the July temperatures for the transition zone between tundra and taiga over the last 12,000, i.e. the Holocene.