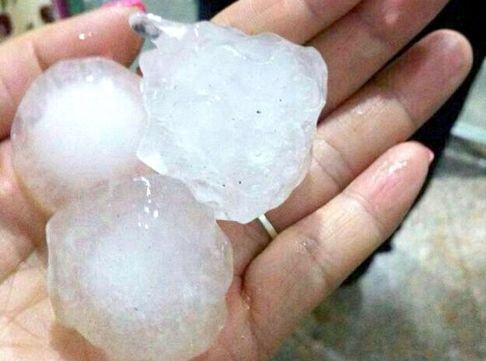 Amber Rainstorm warning raised as people warned 'be alert'
Hong Kong was today warned to brace for more bad weather after giant hailstones last night pounded parts of the city and the Black Rainstorm signal was issued for the second time since 2010.
At 8.40am this morning the Amber Rainstorm warning was issued,
with more than 30 millimetres of rain falling in just an hour
, disrupting rush hour and making journeys to work difficult. The signal was cancelled at 11.40am.
As of 11am, 200 flights had been delayed, 44 cancelled and one diverted, the Airport Authority said.
The Hospital Authority confirmed that there were seven people admitted to accident and emergency departments of public hospitals during the
Black Rainstorm signal raised between 8.40pm and 10.30pm on Sunday night.
Of the seven casualties, ranging in age from a one-year-old to a 64-year-old, six were in stable condition and one was in serious condition.
A spokesman could only confirm that the patient in serious condition was a 29-year-old male and was currently at Princess Margaret Hospital.