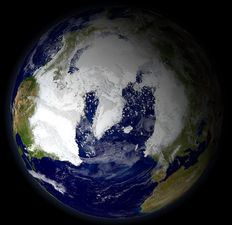 A leading scientist has revealed that Europe could be just five years away from the start of a new Ice Age.
While climate change campaigners say global warming is the planet's biggest danger,
renowned physicist Vladimir Paar says most of central Europe will soon be covered in ice.
The freeze will be so complete that people will be able to walk from England to Ireland or across the North Sea from Scotland to northern Europe.
Professor Paar, from Croatia's Zagreb University, has spent decades analysing previous ice ages in Europe and what caused them.
"Most of Europe will be under ice, including Germany, Poland, France, Austria, Slovakia and a part of Slovenia," said the professor in an interview with the
Index.hr
.
"Previous ice ages lasted about 70,000 years. That's a fact and the new ice age can't be avoided.