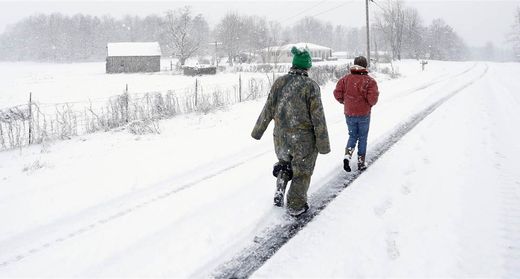 An army of emergency crews were gearing up for battle Wednesday with a vicious ice storm in Georgia that had already cut off power for tens of thousands of people across a long arm of the Southeast and left the streets of Atlanta looking like a sci-fi wasteland.
Nearly 300,000 customers across Louisiana, Arkansas, Texas, Mississippi, Alabama and the Carolinas were without power early Wednesday. But Georgia was bearing the brunt of the wicked weather, with more than 200,000 customers in the dark Wednesday after frozen tree limbs slashed power lines, while emergency planners urged drivers across the state to stay off "deceptively dangerous" roads.
Metro Atlanta was a veritable ghost town as an eerie calm settled over desolate streets slick with ice. The highways were deserted as freezing rain and ferocious wind gusts kept drivers at home. At local retailers, shoppers scrambled to stock up on supplies before the brunt of the storm came crashing down.