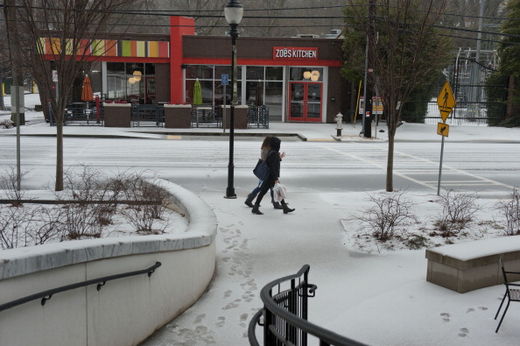 Small armies of utility workers labored to turn the lights - and the heat - back on for hundreds of thousands of Southerners as a winter storm that left them without power threatened major cities further up the East Coast.
The Deep South remained a world of ice-laden trees and driveways early Thursday after several unusual days of sleet and snow brought by a powerful system that could bring more than a foot of snow to such metropolises as Philadelphia, Washington and Boston.
At least 12 deaths across the South have been blamed on the stormy weather and nearly 3,300 flights nationwide were canceled with another day of complicated air and road travel ahead Thursday, particularly in the Northeast.
Drivers in and around Raleigh, N.C., became snarled Wednesday in huge traffic jams and abandoned cars in scenes reminiscent of motorist woes in Atlanta during a storm two weeks earlier. In Atlanta, many streets were eerily quiet this storm, with drivers heeding dire warnings to stay off the roads. State troopers say they worked more than 200 crashes in Georgia. Snow was forecast to stop falling and temperatures to rise in most of the state by late morning, but ice remained a concern, with refreezing possible overnight and into Friday.
For some on slick, snow-covered interstates in North Carolina, commutes that should take minutes lasted hours after many got on the highways just as soon as snow and sleet began at midday.