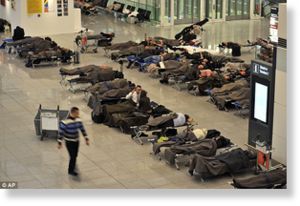 Thousands of passengers have been left stranded across Europe as snow storms and freezing temperatures have forced airports to shut down. As Britain braces itself for its own travel chaos, hazardous weather has already left transport at a standstill in other European countries.
More than 1,000 unfortunate travellers resembled refugees at Munich airport as they were left no choice but to sleep overnight on camp beds provided by the airport. Heavy snowfalls and ice led to hundreds of flight cancellations at Germany's second-busiest airport.
Across the country, an estimated 20,000 could be left with nowhere to go as planed stayed grounded. With no hotel capacity available near Munich airport, where 300 flights were cancelled, to deal with the stranded passengers, staff struggled as they handed out blankets and soft drinks.