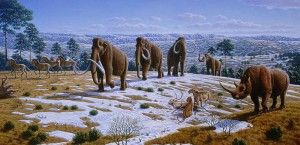 Antibiotic resistance is often seen as a modern phenomenon - an ability generated by bacteria in order to defend against the challenges of modern medicine. This is supported by the fact that bacteria from before the era of antibiotics are often more susceptible to their use. Which is why I found it intriguing that recent studies (ref below) have unearthed bacteria from 30 000-year old permafrost sediment and have found evidence of genes that provide resistance against three of the most common types of antibiotics used in hospitals:
β-lactam
,
tetracycline
and
glycopeptide
antibiotics.
As every microbiologist knows, a good way to get bacteria to stay in an unchanged state is to freeze them. Digging down beneath the surface in areas such as Dawson City in Yukon, Canada reveals layers that have remained frozen since the ice-age and contain, among all the mammoths and toothy-tigers, frozen and uncontamined samples of bacteria.
The researchers focused on
Actinobacteria
; a soil bacteria with many strains still around in modern times. As a soil bacteria, modern
Actinobacteria
carries a whole arsenal of antibiotic and antifungal agents in order to protect itself in the cut-throat world of soil microbiotica. The researchers were looking to see what kind of antibiotic substances this ancient bacteria would have.