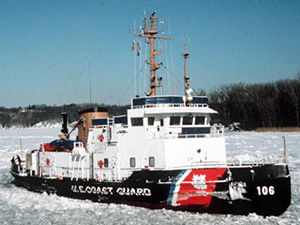 Ice is still four, five, even eight feet (2.4 m) deep in places.
"This is delaying the start of the shipping season," says reader Greg. "The last shipping season came to an abrupt end and the local steel mill was forced to truck in raw materials instead of by the usual and much less expensive lake freighter method."
Duluth, Minnesota (28 Mar 14) - The start of the 2014 shipping season has ground to a near halt by some of the worst lake ice in recent history.
The
Presque Isle
freighter and the
Morro Bay
cutter have sustained damage from the powerful ice and are being forced to return to the Twin Ports for repairs.