Almost one month into spring, and the U.S. Coast Guard is still breaking up ice around the Great Lakes.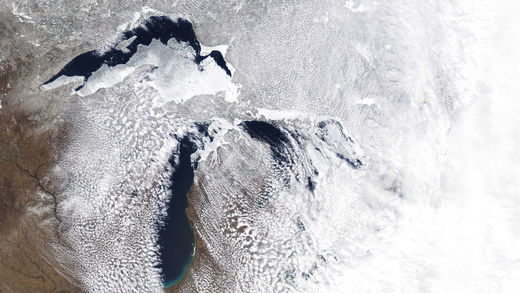 According to the National Oceanic and Atmospheric Administration, more than 64 percent of Lake Superior was covered in ice as of Wednesday. Lake Michigan was 21 percent covered, Lake Huron was 31 percent covered, Lake Erie was 14 percent covered, and Lake Ontario was 2 percent covered. The entire Great Lakes system was 37 percent covered in ice.
VIDEO. #USCG cutters break a way into #Marquette Harbor, helping local mining industry avoid a shutdown. #Michigan buff.ly/Qd6Fq4 -
USCG Great Lakes (@USCGGreatLakes) April 16, 2014
The Coast Guard on Wednesday released video of the cutter Morro Bay carving up ice in the harbor in Marquette, Mich., nestled along the shores of Lake Superior.