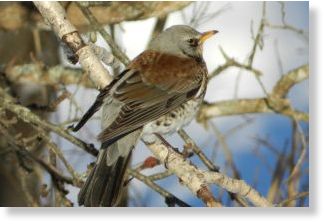 Kathleen Spicer has seen a lot of different birds in her yard over the years, but very few in North America have been visited by a Fieldfare.
The robin-like European bird was first spotted by Spicer's husband Blaine in an apple tree in their yard during a snowstorm on Jan. 31, and was still being observed there as of Monday.
"Blaine saw it out the window and said, 'I don't know what this is,' so I grabbed my camera and stood on a chair to get a picture of it," aid Mrs. Spicer. "I thought maybe it was a Varied Thrush, because it had a robin shape. But when I looked at the picture, I knew it was something else."
Although she had never seen a Fieldfare before, there was something familiar about the bird. She grabbed a guidebook she had for European birds, and there one was right on the cover.