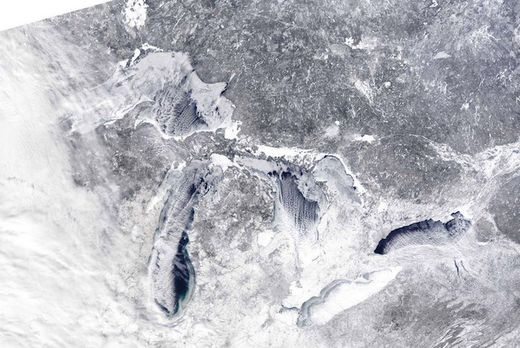 The recent arctic blasts have caused the ice cover on the Great Lakes to increase rapidly. As of Tuesday, Feb. 17, the amount of ice on the Great Lakes is more than the same date last year.
The total ice cover on the Great Lakes is now rated at 82.3 percent as of Tuesday. On the same date last year, the Great Lakes had 81.6 percent total ice cover.
The Great Lakes ice cover has grown over 5 percent in the past 24 hours. That's about 4,750 square miles of ice overnight. At that pace of ice growth, the Great Lakes would be almost totally iced over in the next four days.
The blast of arctic cold tonight through Friday will certainly help ice continue to grow.
The cold will come with a 10 mph to 20 mph wind, which could temporarily break up and reduce some ice. But the light wind days in the next 10 days also look very cold.
So it's going to be very interesting to watch the ice expand in the next few weeks.
From the bitter cold weather I'm expecting to head our way, combined with several days of light winds, I think we will surpass last year's total ice cover on the Great Lakes. In fact, I'm wondering if we could see the Great Lakes almost totally ice up by the end of February.