Britain's coast was shrouded in mist for the Bank Holiday weekend due to warm air clashing with an unusually cool sea because of the cold spring.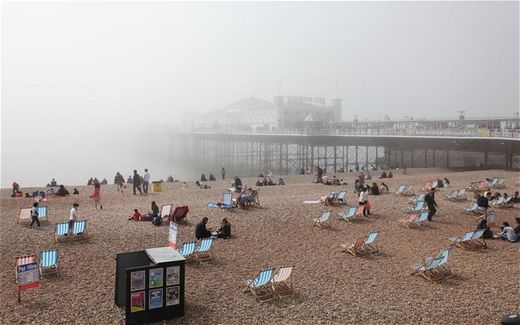 Temperatures up to 22C meant thousands flocked to beaches around the South and South West Coasts.
But they were greeted with a strange sea mist.
The "haar" or "sea fret", as it is known, is caused by warm air condensing over the cold sea and creating a fog. It is typical for this time of year but more pronounced than usual as the air is so warm and the sea is so cold following the coolest April for 24 years and the coldest March for 100 years.
The sea fog was worse over the south coast and south west as the wind was blowing the fog onto land. Today (Tues) the hear is more likely to settle over the north and east, where it is more common, as the wind changes direction.
Calum Maccoll, forecaster at the Met Office, said
the sea was unusually cold.
"The sea temperature is 9C, it should be in the double figures but the cold March has brought it right down.
"As it takes a long time to warm up it is colder than it normally would be at this time of year, and as mild air is passing over the surface, mist is being created."