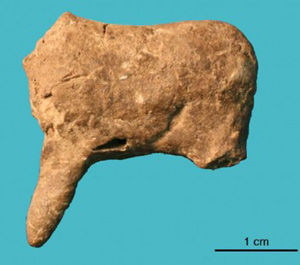 Ceramics found on the coast of the Adriatic attest to a
previously unknown artistic culture which flourished during the last Ice Age
, thousands of years before pottery was commonly used.
One of the better-preserved items among the 36 recovered fragments seems to be the torso and foreleg of a horse or deer. Its creator deliberately minimised the number of joins in the model, perhaps to give it structural strength.
The evidence unearthed in modern-day Croatia points to the existence of a community of prehistoric artists and craftspeople who made ceramics during the last Ice Age - thousands of years before pottery became commonplace.
The finds consist of 36 fragments, most of them apparently the broken-off remnants of modelled animals. They come from a site called Vela Spila on the Adriatic coast.