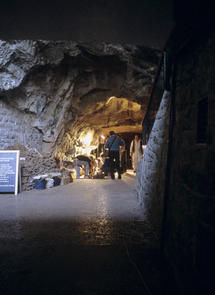 The Cheddar Gorge in Somerset was one of the first sites to be inhabited by humans when they returned to Britain near the end of the last Ice Age. According to new radio carbon dating by Oxford University researchers, outlined in the latest issue of
Quaternary Science Review
, humans were living in Gough's Cave 14,700 years ago.
A number of stone artifacts as well as human and animal bones from excavations, spread over more than 100 years, shed further light on the nature as well as the timing of people to the cave.
Technological advances have allowed researchers at Oxford University and London's Natural History Museum to date the bones more accurately. Previous radiocarbon dates suggested a wide span of occupation of within 1000-1500 years. The new dates show a much narrower range of dates, corresponding precisely to climate warming, providing evidence that the archaeological material in the cave could have accumulated over perhaps as little as two to three human generations, centered on 14,700 years ago.