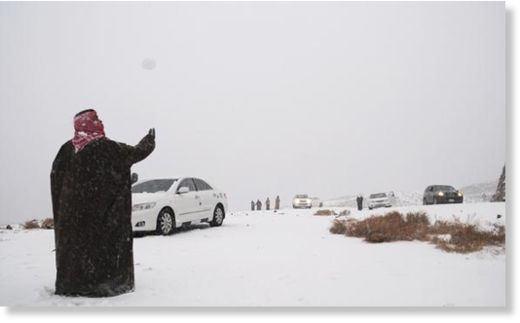 A wave of bitterly cold weather accompanied by wind, sub-zero temperatures and snow is expected to hit the Kingdom on Wednesday and last until Sunday, the
Presidency of Meteorology and Environmental Protection
(PME) said on Monday.
The extreme cold is forecast strike the north and northwest areas of the Kingdom as a result of storms coming from Europe and America. The inclement weather is expected to move across the entire country.
Hussain Al-Qahtani, spokesperson of the PME, said this would be the coldest weather for the year.
The northern areas would be struck first, including Tabuk, Turaif and Al-Jouf, where sub-zero temperatures and light snow is expected. The PME also expects wind that would limit visibility.
The temperatures would likely drop in Madinah, Jeddah and Makkah, accompanied by strong winds. The cold wave would reach its peak on Thursday in Hail, Qassim, the Eastern Province and Riyadh.