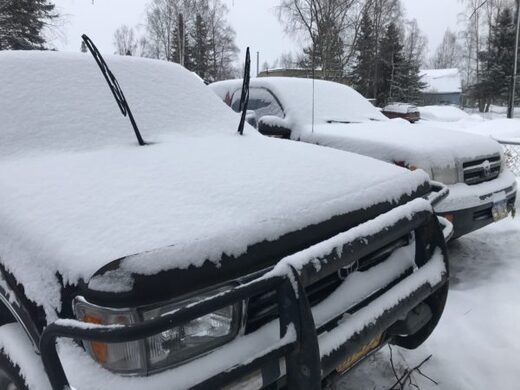 If you thought winter was over in Anchorage, the National Weather Service has some bad news for you.
Unseasonably cold air swept into Alaska's largest city Thursday, and forecasters expect it to stay through the weekend.
The weather service is warning of wind chills as low as minus 25 degrees. There are also high wind warnings in effect for the Whittier and Seward areas.
The cold is plunging south into Alaska all the way from the North Pole, pushing a band of snow through Southcentral, said weather service meteorologist Ben Bartos.
"And with that, we'll have some very strong winds barreling through the area," Bartos said. "It's going to hit us like a freight train, if you will."
The snow is expected to taper off midday Thursday, Bartos said, with northerly winds picking up to 30 mph and gusting to as high as 50 mph. Winds are forecasted to die down Friday, with the possibility of record low temperatures to follow in Anchorage.