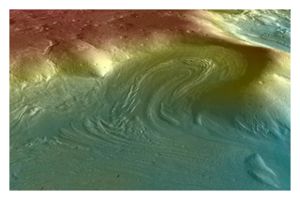 "Mars is not a dead planet -it undergoes climate changes that are even more pronounced than on Earth."
James Head, planetary geologist, Brown University
The prevailing thinking is that Mars is a planet whose active climate has been confined to the distant past. About 3.5 billion years ago, the Red Planet had extensive flowing water and then fell quiet - deadly quiet. It didn't seem the climate had changed much since. However, studies by scientists at Brown University have shown that Mars' climate has been much more dynamic than previously believed.
This high-resolution image above, taken by the Mars Reconnaissance Orbiter, shows the rock debris that Brown scientists believe was left by a glacier that rose at least one kilometer from the surrounding plain and flowed downward onto the canyon.
After examining this stunning high-resolution images taken by the Reconnaissance Orbiter, researchers documented for the first time that ice packs at least 1 kilometer (0.6 miles) thick and perhaps 2.5 kilometers (1.6 miles) thick existed along Mars' mid-latitude belt as recently as 100 million years ago. In addition, the team believes other images tell them that glaciers flowed in localized areas in the last 10 to 100 million years - a blink of the eye in Mars's geological timeline.
This evidence of recent activity means the Martian climate may change again and could bolster speculation about whether the Red Planet can, or did, support life.
"We've gone from seeing as a dead planet for three-plus billion years to one that has been alive in recent times," said Jay Dickson, a research analyst in the Department of Geological Sciences at Brown and lead author. "[The finding] has changed our perspective from a planet that has been dry and dead to one that is icy and active."