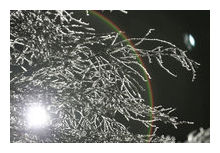 Winter temperatures in Russia have gone extreme. The air in some regions of the republic of Yakutia (Siberia) has cooled down to -50 degrees Centigrade. Anomalous cold of -40 degrees is expected in the Perm region of Russia, Vesti.Ru reports.
In the European part of Russia, the current temperatures are ten degrees below the norm. On Wednesday morning, the temperature in the Moscow region dropped to 26 and even 30 degrees below zero Centigrade.
Cold weather is expected to become even colder this week in Moscow and the region, RIA Novosti reports. Winter cold has already claimed several human lives. One person died of frostbite yesterday in Moscow. Ten others asked for medical help and were hospitalized.
Ukraine suffers from extreme cold as well. According to Ukrainian news agencies, the cold has killed 30 people during the last three days. More than 600 people asked for medical help, 544 of them were hospitalized.
Russia's Chief Sanitary Doctor Gennady Onishchenko believes that there is a positive side to such severe winter cold. Low temperatures prevent the epidemic of flu, the official said.