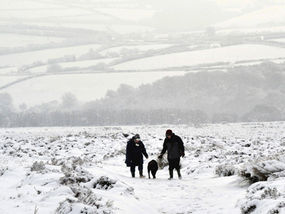 Britain will grind to a halt within weeks as the most savage freeze for a century begins.
Temperatures will fall as low as minus 20C in rural areas, forecasters warned last night, while heavy snow and "potentially dangerous" blizzards will close roads and cripple rail networks.
James Madden, forecaster for Exacta Weather, said: "We are looking at some of the coldest and snowiest conditions in at least 100 years. This is most likely to occur in the December to January period with the potential for widespread major snowfall across the country.
"Parts of the North, Scotland and eastern England are likely to experience a run of well below average temperatures, which will include some potentially dangerous blizzard conditions at times."
He warned the South faces a bout of "unusually heavy snowfall" in December.
Leon Brown, meteorologist for The Weather Channel, said snow could arrive as early as next weekend, with temperatures falling to minus 5C in the North.
"There is a 30 per cent risk of some snow over lower levels in Scotland on Friday."