Thursday morning not only broke an "ancient" record from 1873, but we also dropped to the second coldest temperature ever recorded in the month of November in Jacksonville.
According to the National Weather Service, for the second morning in a row, Jacksonville set a new cold weather record. Thursday mornings temperature dropped to a bone chilling 24 degrees breaking the old record of 30 degrees set in 1873.
If that wasn't cold enough for you, Thursday's 24 degrees also marks the second lowest temperature ever recorded in the month of November, beaten out only by the year 1970 when the mercury dropped to 21 degrees in Jacksonville in November.
Some areas around Woodbine, GA flirted with the upper teens as the temperature officially there dropped to 20 degrees.
Any thoughts that the winter of 2014-2015 wouldn't be as bone-chilling as last year's may have just been put on thin ice. And it's
only November
.
Tuesday morning was the coldest Nov. 19 across the United States since 1976, some 38 years, according to Dr. Ryan Maue, meteorologist with WeatherBell. The average temperature across the entire country was just 19.4°.
An astounding 226 million people in
all 50 states, that includes the tropical paradise of Hawaii, were below freezing at the same time putting an exclamation point on an already paralyzing winter season
-- that hasn't even officially started yet.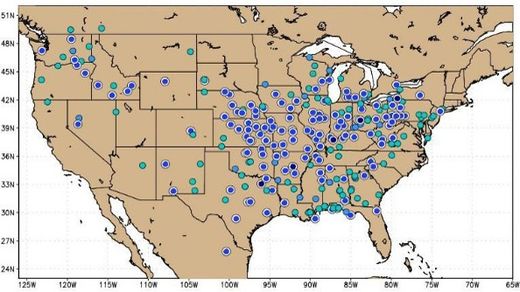 Even Florida didn't escape the icy grip.