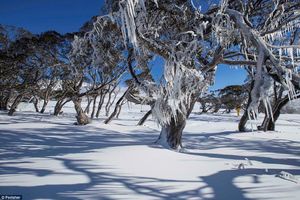 Australia is experiencing the coldest start to winter in forty years after parts of the country were buried under a foot of snow.
Temperatures plunged as low as minus nine degrees Celsius as the alpine resorts of Perisher and Thredbo in New South Wales disappeared underneath a blanket of snow on Monday evening.
Average winter temperatures across New South Wales are typically between 14 and 16 degrees Celsius.
It got as cold as 6.1 degrees Celsius in the City of Sydney, making it the chilliest morning the region has seen since 1987.
Falls Creek in Victoria also received 20cm of snow overnight and Mount Buller recorded8cm, while Melbourne got off to its coldest morning in almost 40 years.