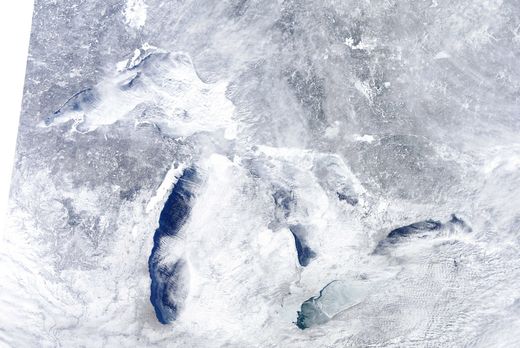 Like a boxer who knocked his rival to the mat and who then gets down on his knees to keep pummeling the poor guy, the wicked winter of 2014 may not be done with us yet.
Federal officials Wednesday marveled at the size of the ice sheet that as of this week covered 91 percent of the Great Lakes. That ice cover could produce problems long into the spring.
A fast melt could produce ice jams in rivers and streams that in turn cause flooding, said George A. Leshkevich, a scientist with the National Oceanic and Atmospheric Administration's Great Lakes Environmental Research Laboratory.
And even if that doesn't happen, Leshkevich said, this winter's deep freeze could make the spring colder than usual, as winds whipping off the frozen lakes continue to chill communities just when it's supposed to be getting warmer.
Leshkevich and Keith Kompoltowicz, chief of watershed hydrology for the U.S. Army Corps of Engineers in Detroit, joined reporters on a conference call Wednesday to discuss the effect all the snow, ice and cold might have on lake levels.