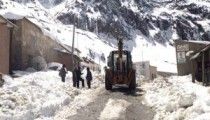 Snow more than 5-feet (1½ m) deep is causing serious problems on the roads - and despair among the inhabitants - at mining centers Pacuni , Argentina , Mallachuma , Amporio , Viloco and Mina Sudamericana. Pacuni mining centers and Argentina have been isolated since last Saturday.
The snow, which has caused severe damage to mining machinery and infrastructure, is not only preventing output, even people find it difficult to walk in those conditions.
Weather conditions during the last days were terrible, said Panfilo Brand , president of Quime City Council. "We are cut off from the rest of the department . Snow has created havoc in our sheds and compressors, which have been damaged and no longer work, which prevents the production in the extraction of minerals. "