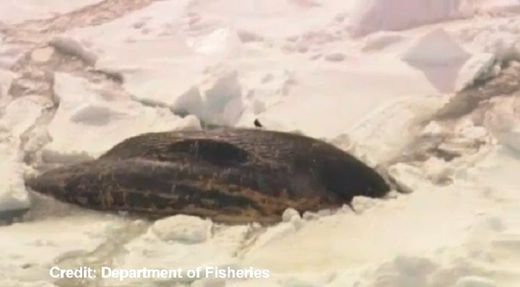 Warning: Disturbing images. Blue whale carcasses were spotted on the ice off the southwest coast of Newfoundland, while a sperm whale carcass washed up on the southeast coast.
Several endangered blue whales have been found dead in ice off Newfoundland - probably crushed to death by ice, says the Department of Fisheries and Oceans (DFO).
DFO said the carcasses of blue whales were spotted last month, stuck in thick ice off of the southwest coast of the island.
Dr. Jack Lawson, a researcher with DFO, told Global News he and a colleague spotted nine dead whales while flying over the ice, about 40 nautical miles west of Cape Anguille. He said they were around 20 metres long - the "length of two school buses."