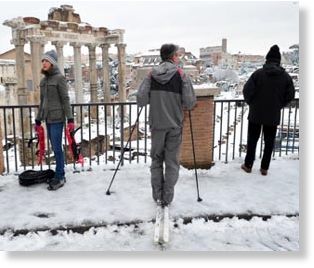 Snow and treacherous black ice caked the streets of the normally mild-weathered Italian capital Sunday, as snowed-in residents warned of food shortages and the cold snap's death toll rose to 17.
Following what was Rome's heaviest snowfall in 27 years, more than 400 members of the armed forces were called in to help clear the ancient city and surrounding areas.
Snow also fell in Milan and areas of northern Italy, and the bitter cold's toll rose to 17 after three homeless people were found dead, including one at Rome's main train station. The bitter cold that has gripped Europe for more than a week has claimed over 300 lives across the continent in total.
Fierce winds knocked over and killed an elderly woman who was walking to mass in Trieste in northern Italy, three men died shovelling snow and a 19-year-old man was killed in Florence when his car skidded off an icy road and into a river.