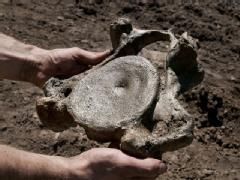 Snowmass Village -- Crews are racing against time to finish the dig at an Ice Age fossil site near Aspen.
Excavation began at the site last fall after a bulldozer operator uncovered a bone while working on an expansion of Ziegler Reservoir. Work stopped for the winter but resumed in mid-May.
Crews are finishing work this weekend before construction on the reservoir resumes next week.
During the last seven-week dig, crews found 4,517 bones from at least 20 different kinds of Ice Age animals, according to the Denver Museum of Nature and Science.