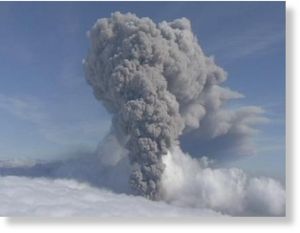 Volcanoes may release particles that can cause changes in local and regional weather at rates up to 100 million times higher than previously realized.
The eruption last spring of Iceland's Eyjafjallajökull volcano provided French scientists with the perfect natural laboratory to measure the levels of weather-changing particles released in such eruptions. Taking measurements at the Puy de Dôme research station in central France, they found was that the eruption released much larger amounts of particles at low levels in the atmosphere than previously known.
Volcanoes typically create two types of particles, big primary particles that quickly fall to the troposphere, the lowest portion of Earth's atmosphere, and smaller secondary particles, mostly composed of sulfuric acid, that react chemically with other molecules in the atmosphere and which are responsible for both local and global precipitation changes.