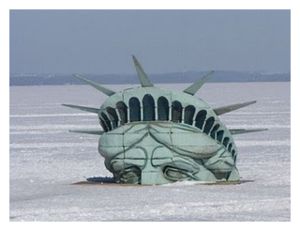 When you consider the millions of words published as "news" about global warming, a massive hoax based on the theory that an increase in the Earth's levels of carbon dioxide (CO2), a minor atmospheric gas (0.0380%), it boggles the mind that reporters for a respected newswire, Reuters, would still be writing utter rubbish about it.
Just as the "news" about global warming was demolished in 2009 and again in 2011 with the leaked emails of the conspirators behind the fictions of the United Nations Intergovernmental Panel on Climate Change (IPCC), the main agency behind the hoax, on January 9, Nina Chesney of Reuters London Bureau, reported about a paper in the journal,
Nature Geoscience,
that the "Next Ice Age not likely before 1,500 years: study."
The paper claimed that "Concentrations of the main gases blamed for global warming reached record levels in 2010 and will linger in the atmosphere for decades even if the world stopped pumping out emissions today, according to the U.N.'s weather agency."
The U.N. does not have a "weather agency." It has a propaganda agency devoted in its own words to "climate." The two are not the same. Weather is what is occurring right now and climate is the measurement of trends over centuries.