The planet's last major cold spell 13,000 years ago was caused by a catastrophic deluge of frigid fresh water from north-west Canada into the Arctic ocean, a new study suggests. Detailed computer simulations show meltwater from the enormous Laurentide Ice Sheet halted the sinking of very dense, saltier, colder water in the North Atlantic.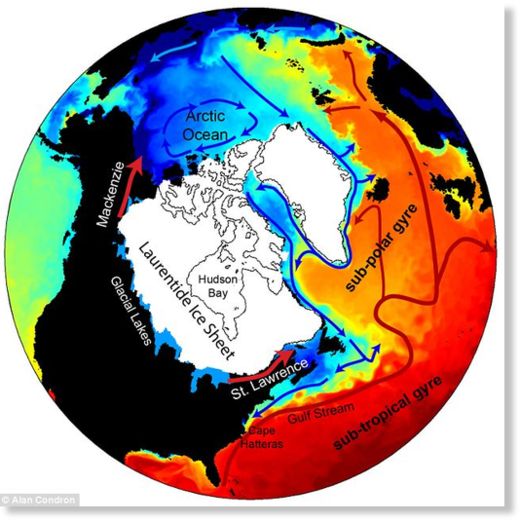 That stopped the large scale ocean circulation - the so-called thermohaline circulation - that transports heat to Europe and North America, causing the continents to dramatically freeze. The findings offer a new explanation for the cause of this last big chill, which scientists had thought was caused by freshwater flowing into the Atlantic through Canada's Gulf of St Lawrence.
It led to a cold spell lasting more than 1,000 years known as the Younger Dryas or 'Big Freeze', during which temperatures in parts of the northern hemisphere fell to about 10 degrees C colder than they are today.