Hundreds of daily record lows and at least three all-time record lows have been set as a frigid air mass with a
connection to Siberia
grips the central and eastern United States with dangerously cold conditions. Friday morning brought the most widespread and intense cold of the winter to many areas, sending temperatures into the 30s below zero as far south as Kentucky.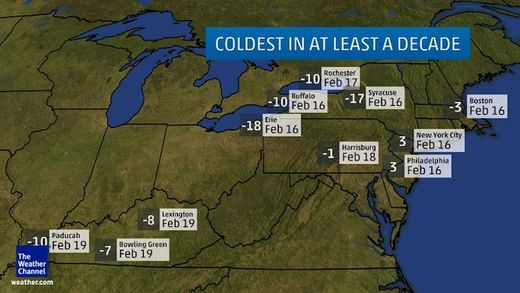 The cities plotted on this map have recently recorded their l
owest temperatures for any date in at least 10 years
.
Lynchburg, Virginia, plummeted to 11 below zero Friday morning, setting a new all-time record low for any day of the year. The previous record was 10 below zero on Jan. 21, 1985, and Feb. 5, 1996. Impressively, Lynchburg's temperature records go all the way back to 1893.
Flint, Michigan, tied its all-time record low of 25 below zero, originally set Jan. 18, 1976. Weather records in Flint began in 1921.
Earlier this week Erie, Pennsylvania, had tied its all-time record low when it reached 18 below zero Monday. That tied the record set Jan. 19, 1994. Not far away, Jamestown, New York, set an all-time record low of 31 below zero Tuesday, though its records only go back to 1960.
At least 72 daily record lows were set Friday morning from Connecticut to Florida to as far west as Indiana
, including major cities such as New York, Baltimore, Washington, Pittsburgh, Atlanta, Charlotte, Miami, Detroit and Cincinnati.
According to NOAA's National Climatic Data Center,
647 record lows were tied or broken Sunday through Thursday. This figure includes not only major airport reporting stations, but also smaller cooperative observation sites in rural areas
.
More Friday Morning Records
All-time February record lows:
Cleveland has broken its all-time record low for the month of February, reaching 17 below zero. The previous February record was minus 16 on Feb. 10, 1899, in the nation's worst arctic outbreak in modern memory. It is also Cleveland's coldest day since Jan. 19, 1994, when the city set its all-time record of 20 below zero.