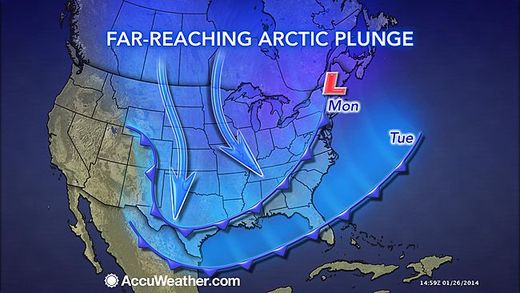 Just in time for Obama's State of the Union Address, where he is supposed to invoke global warming and the power of his mighty pen, comes another polar plunge the likes of which may not have been seen before:
"A blast of brutal cold will grip most of the eastern two-thirds of the United States through Wednesday and could yield the lowest temperatures so far this winter in many communities.
The impending polar plunge will rival the frigid days from earlier this January for the coldest daytime highs and nighttime lows so far this winter. This does not include South Florida.The arctic air first plunged into the Upper Midwest, northern Plains and northern Rockies on Sunday and is expected to continue pressing to the south and east through Tuesday.
The magnitude of this cold blast will be enough to produce a far-reaching threat of frostbite, hypothermia, frozen pipes and water main breaks.
Care should also be taken to ensure that livestock and other animals housed outdoors have adequate shelter.
Especially across the Midwest and Northeast, officials may decide to cancel or delay school due to the extreme cold. Some vehicles may struggle or fail to start for motorists.
While highs will be held to the 30s southward to the I-10 corridor, the Midwest and Northeast are bracing for the harshest conditions."
Read the rest here...