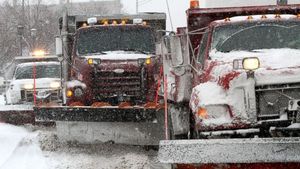 More than 800,000 Minnesota students will not be going to school Monday after the governor decided to close public schools statewide due to a cold front with
bone-chilling temperatures not seen in nearly a decade
.
Gov. Mark Dayton made the decision to close all public schools from K through 12 on Friday afternoon, after temperatures were estimated to reach
as low as minus 30 degrees and wind chills as low as minus 50 degrees
, according to the National Weather Service.
The decision has influenced other state officials across the Midwest to consider similar measures, with some already taking action.
Wisconsin Gov. Scott Walker has cancelled school for Milwaukee students on Monday, and is now considering closing schools statewide. Education officials in West Michigan have agreed to close schools if wind chills reach anywhere from minus 15 to minus 30, according to
MLive.
North Dakota Gov. Jack Dalrymple's office said closures for the whole state aren't likely, and that further decisions will be left up to the superintendents of each county, according to
Valley News Live
.