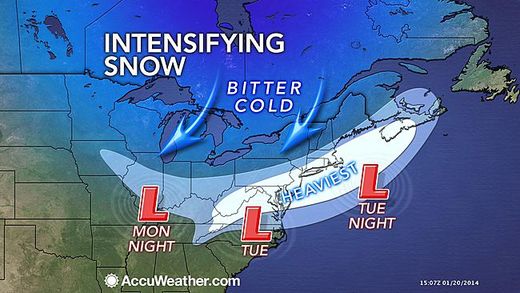 Along the leading edge of
the invading polar blast
, accumulating snow will spread from the Midwest to the East Coast on Tuesday.
The snow will come courtesy of yet another Alberta Clipper set to drop through the Dakotas and Ohio Valley on Monday through Monday night with accumulations on the order of a coating to 2 inches.
The snow will become heavier as it streaks across the mid-Atlantic on Tuesday, then makes a northeastward turn toward southern New England late in the day and evening.
Travel conditions will deteriorate with slippery roads and flight delays expected to unfold even in areas that avoid heavy snow. As colder air invades the storm, winds will increase and cause some blowing and drifting of the snow that has already fallen.