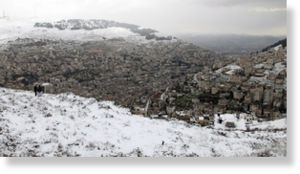 Four to six inches of snow fell in Jerusalem Wednesday night into Thursday morning, snarling traffic and closing schools and government offices. The snow in Jerusalem resulted from a large storm system that produced days of inclement weather in the Middle East. Initially, the storm brought mainly wind and heavy rains that caused
flooding and damage in some areas
.
But as cold air wrapped into low pressure tracking through the region, temperatures plummeted and snow reports spiked. Up to three feet of snow fell on Mount Hermon in northern Israel
the Inquisitr reported
. Snow was also observed in areas of the West Bank, Turkey, Jordan, Lebanon, Syria and Egypt.
The cold, stormy weather in Syria brought further suffering in war-ravaged cities and for refugees. "The United Nations says millions of people inside Syria and 600,000 refugees outside the country need assistance, including food, blankets and warm clothes,"
Voice of America wrote
.