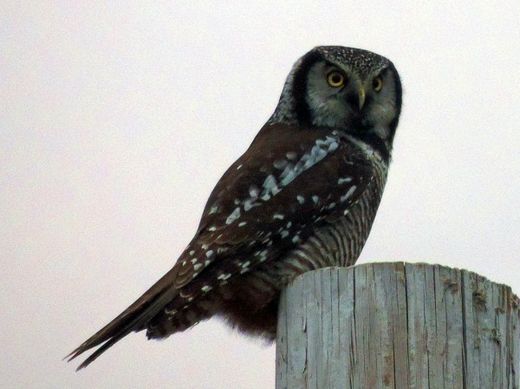 Something weird is going on up north. It's a little early for rare owls to be visiting Maine, but here they come. An invasion from Canada is underway.
The star of the show is a northern hawk-owl in Lincoln. It first appeared about two weeks ago in the area between the Lincoln Regional Airport and Penobscot Valley Hospital. Once a rare northern owl finds a place he likes, he tends to stay awhile. This one has.
Snowy owls have been popping up all over southern Maine. They're also early
. The owl sighting in Biddeford Pool doesn't surprise me. They've had a habit of visiting the area for years, usually perching offshore on Wood Island. But the other owls have appeared in places where they are not customarily seen. A young male in Kennebunk settled on top of Mt. Agamenticus for a day. It perched on the rail of an observation platform in full view of an existing web cam maintained by the Regional Conservation land trust. The rare owl spent several hours on camera for the world to see. Now that's just lucky.
It's too soon for qualified scientists to offer opinions on why an owl invasion is happening, but nothing prevents unqualified columnists from speculating. I assume it has little to do with weather. No frigid blasts have forced other subarctic birds such as northern shrikes and rough-legged hawks to fly south in unusual numbers. Generally, invasions are triggered by one thing: food scarcity.