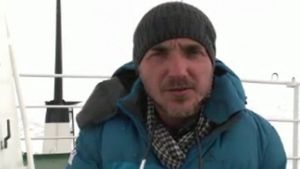 It appears that now even Professor Chris Turney admits blaming his expedition mishap on global warming was an astronomical stretch after all.
Yesterday
I reported here
, quoting flagship
Swiss Daily
(NZZ), that his communication director Alvin Stone blamed global warming for the vessel getting trapped in ice. The whole world laughed.
I couldn't believe it myself so I wrote an e-mail to Stone asking if they really believed this.
Stone answered circa 9 hours later:
Dear Pierre,

That is not quite the quote that I gave.

This is my understanding from talking to Chris and other glaciologists.

The 120km long ice berg B09B that is grounded in Commonwealth Bay broke away from the continent three years ago, very likely as a result of climate change.
B09B collided with the Mertz Glacier, smashing a large ice tongue that released the ice into that area.
It was a mix of this ice that was blown across the path of the Shokalskiy, which led to it being trapped and explains why much of the ice surrounding the ship is old ice.

Chris discusses the situation in a blog entry, here.

I believe you are probably aware of a number of papers this year that show land ice on Antarctica is in decline and that only seasonal sea ice has been expanding, likely due to the increase in westerly winds and potentially because of the decrease in salinity.

Thanks for your interest.