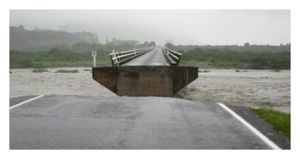 Gale force winds, torrential rain, thunderstorms and now unseasonable snow have pounded the South Island.
Snow fell on the Lindis Pass in Otago overnight, forcing travellers to abandon their vehicles near the summit.
Sergeant Mark Booth of southern police communications said Lindis Pass was closed and eight vehicles were stranded.
"But I imagine at this time of year the snow's not going to last long."
The centre of the island and the West Coast have "copped it" over the last few days, Mr Booth said.
The West Coast road via Lewis Pass through Murchison had closed, forcing travellers to make a seven hour detour around Blenheim and Kaikoura to get to the east coast of the island.
Last night severe thunderstorm warnings were issued for the Westport area as the last of the system moved through.
Nearly 600mm of rain has fallen on the West Coast in the past 48 hours.
A vital one-lane bridge on State Highway 6, just north of Harihari, was washed away yesterday.