Britain could freeze in years of super-cold winters and miserable summers if the Bardarbunga volcano erupts, experts have warned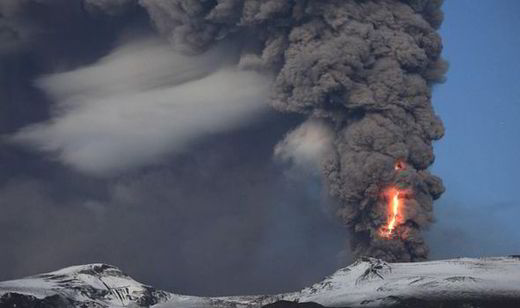 Depending on the force of the explosion, minute particles thrust beyond the earth's atmosphere can trigger decades of chaotic weather patterns.
Tiny pieces of debris act as billions of shields reflecting the sun's light away from earth meaning winter temperatures could plunge lower than ever before while summer will be devoid of sunshine.The first effect could be a bitterly cold winter to arrive in weeks with thermometers plunging into minus figures and not rising long before next summer.
The Icelandic Met Office has this week warned of "strong indications of ongoing magma movement" around the volcano prompting them to raise the aviation warning to orange, the second highest and sparking fears the crater could blow at any moment.The region has also this week been hit by a magnitude-four earthquake - the strongest for almost 20 years, officials said.The British Met Office said the effects of an explosion on Britain's weather depends on the wind direction in the upper atmosphere. Spokeswoman Laura Young said: "If the upper winds are north-westerly it will have an effect on our weather."If the upper winds are westerly then it won't."