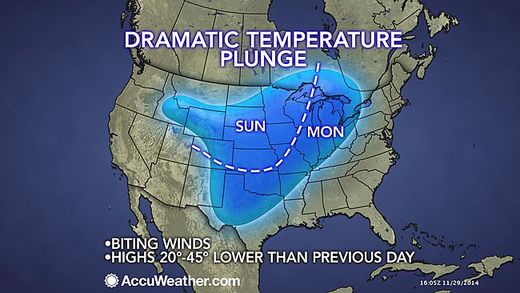 A fresh blast of frigid air and bone-chilling winds will continue to expand across the Plains and Midwest through Monday, hitting cities from Minneapolis to Chicago and Oklahoma City.
The frigid blast has already dropped temperatures
nearly 60 degrees in a 24-hour period
across parts of Montana Friday into Saturday. Some locales went from the mid-50s on Friday to nearly 10 below zero F.
The arctic chill will dive south and east through Monday, hitting Minneapolis, Chicago and Oklahoma City with sharply colder air and drastically plummeting temperatures.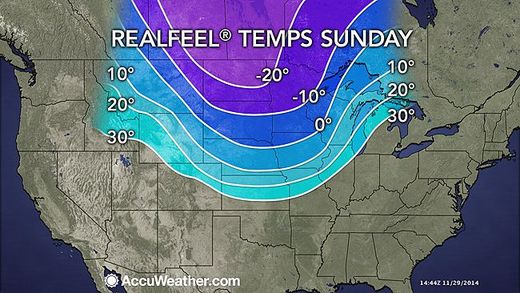 Highs near 40 F in Minneapolis Saturday afternoon will be replaced by teens and single digits Sunday and Monday.
Bone-chilling winds will accompany the cold blast on Sunday, forcing afternoon AccuWeather.com RealFeel® temperatures into the single digits below zero. Chicago's RealFeels will sit in the single digits above zero throughout the day on Monday.
"This latest cold blast will not be nearly as wide-reaching or long lasting as the one that hit the country in the middle of November," said AccuWeather.com Meteorologist Mark Paquette. "The Plains and Midwest will be hit the hardest, while the Southeast will avoid much of the chill."
Oklahoma City will be near record highs in the 70s Sunday before highs plummet into the 30s for Monday. Winds will place RealFeel temperatures in the single digits around daybreak Monday.