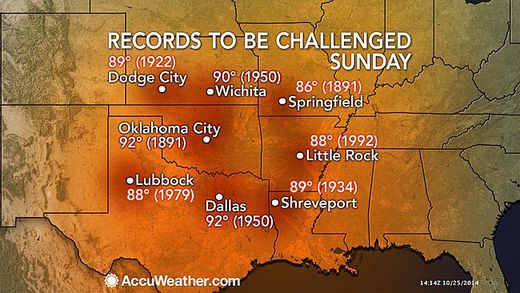 After many locations over the Plains feel like late summer this weekend, the record-challenging warmth will expand to the Northeast next week.
Millions of people will be reaching for shorts and short-sleeve shirts for a few days as the warmth builds.
High pressure over the South is forecast to continue to pump warm air in from Mexico and provide abundant sunshine to Texas and the Plains this weekend. Some major cities will challenge record highs as a result, including Dallas, Denver, Oklahoma City and Kansas City, Missouri.
According to AccuWeather.com Senior Meteorologist Paul Walker, "Temperatures across the Plains will feel more typical of Labor Day than late October."
New record-high temperatures were achieved on Friday over Texas, Colorado and Wyoming. Denver and surrounding areas broke their record high temperatures on Friday. Denver reached 82 F breaking its old record of 80 set in 2011.
Greybull, Wyoming, reached a high of 77 F breaking the old record of 72 degrees back in 1998. Riverton, Wyoming, reached a high of 74 degrees breaking its record of 68 degrees back in 1995. Delhart, Texas, reached 87 degrees on Friday breaking its old record of 85 degrees set in 2012.
Temperatures will run between 10-15 degrees F above average as far north as North Dakota through the weekend.