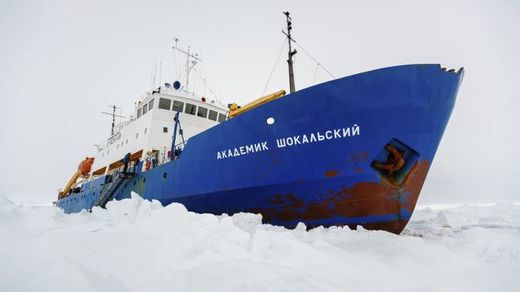 Antarctic ice trapped a ship full of scientists on a climate change expedition. Yet, 96 percent of network news reports about the stranded researchers ignored climate change entirely. The ship has been stuck since Christmas morning.
The broadcast networks mostly ignored the reason the Russian ship,
Akademic Shokalskiy
, was on its way to Antarctica. Twenty-five out of 26 stories (96 percent) on the network morning and evening news shows since Dec. 25 failed to mention climate change had anything to do with the expedition.
In fact, rather than point out the mission of the scientists to find evidence of climate change, the networks often referred to the stranded people as "passengers," "trackers" and even "tourists," with
no mention of climate change or global warming
. Chris Turney, the expedition's leader, is a
professor of climate change
at the University of South Wales. According to Turney's
personal website
, the purpose of
the expedition
is to "discover and communicate the environmental changes taking place in the south."