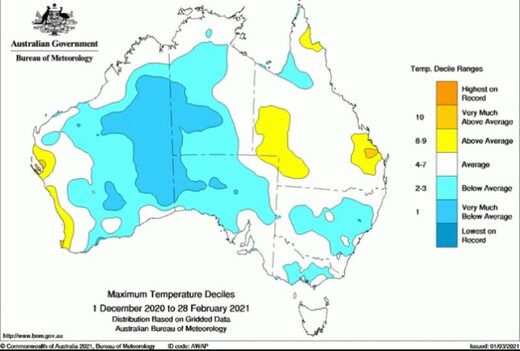 It wasn't just Facebook giving Australia the cold shoulder this southern hemisphere summer — according to data from the Bureau of Meteorology (BoM), the eastern Aussie state of New South Wales (NWS) has just suffered its coldest summer season since 2011.
March 1 is the start of autumn down under. December 1 to February 28 is summer, and those 3-months delivered lower than average temperatures across the majority of Australia —
NOAA
reveals that
823 new low temperature records
were set during that time-period in Australia, while the latest data from the BoM (released today, March 1) shows us that the southeastern Aussie state of NSW, distinguished by its coastal cities, national parks, and capital city Sydney, just endured its
coldest summer since the end of the previous solar minimum
(late 2010/early 2011).
As reported by the
dailytelegraph.com.au
, the average NSW temperature for the summer of 2020-21 was the coldest on record since 2011 when the average temperature reached a relatively cool
23.2C (73.8F)
.
According to the BoM
-even with their UHI-ignoring bias-
"mean maximum temperatures were cooler than average for much of the Aussie mainland," with mean minimum temperatures "below average for the northern interior of Western Australia and adjacent Northern Territory, areas of southern inland New South Wales, north-west Victoria, and south-east and northern South Australia."