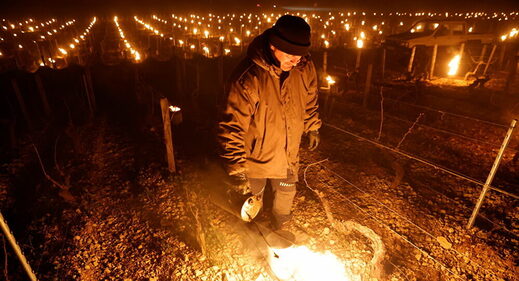 An estimated €2 billion-worth of production has been lost after an early warm spell that encouraged grape vines and fruit trees to blossom was followed by a cold snap that killed them off.
That came after the industry lost €1 billion in exports last year due to the COVID-19 pandemic.
France has declared a national emergency after one-third wine production has been lost to rare spring frosts.
French Agriculture Minister Julien Denormandie hyperbolically described the crisis as
"probably the greatest agricultural catastrophe of the beginning of the 21st century" this week, and the government declared an "agricultural emergency".
An early bout of warm weather encouraged vines and fruit trees to blossom early, only for a sudden cold snap to nip them in the bud. The Champagne, Bordeaux, Burgundy, Rhône and Loire Valleys and Provence have all been affected.
The damage has been estimated at €2 billion (£1.7 billion) in projected lost sales this year — on top of
€1 billion in exports lost
last year due to the coronavirus pandemic.