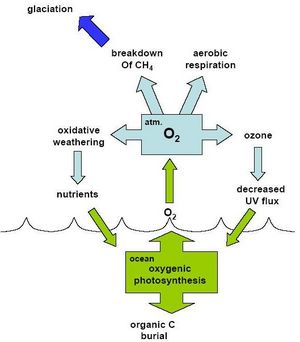 Geologists may have uncovered the answer to an age-old question - an ice-age-old question, that is. It appears that Earth's earliest ice ages may have been due to the rise of oxygen in Earth's atmosphere, which consumed atmospheric greenhouse gases and chilled the earth.
Alan J. Kaufman, professor of geology at the University of Maryland, Maryland geology colleague James Farquhar, and a team of scientists from Germany, South Africa, Canada, and the U.S.A., uncovered evidence that the oxygenation of Earth's atmosphere - generally known as the Great Oxygenation Event - coincided with the first widespread ice age on the planet.
"We can now put our hands on the rock library that preserves evidence of irreversible atmospheric change," said Kaufman. "This singular event had a profound effect on the climate, and also on life."
Using sulfur isotopes to determine the oxygen content of ~2.3 billion year-old rocks in the Transvaal Supergroup in South Africa, they found evidence of a sudden increase in atmospheric oxygen that broadly coincided with physical evidence of glacial debris, and geochemical evidence of a new world-order for the carbon cycle.