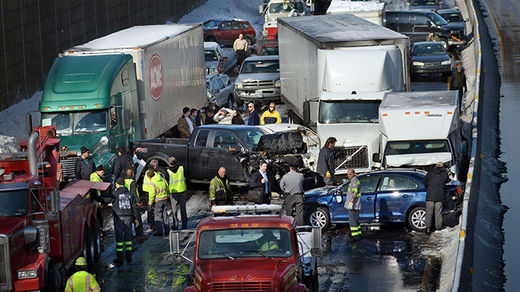 Several huge multi-car pile-ups totaling 100 vehicles have shut down part of the Pennsylvania Turnpike Friday morning, as icy driving conditions made for a treacherous commute.
The first crash occurred close to 8 a.m. and set off a chain reaction of accidents involving roughly 75 vehicles, while a separate crash managed to snare another 30 cars or so, according to CBS Philadelphia.
So far, up to five individuals have been hospitalized, though no fatalities have been reported.
There's no word on exactly what caused the pile-ups, but local news station Fox 29 said the first accident took place around 7:40 a.m. and involved a tractor trailer. That accident triggered a chain reaction of collisions, which state police believe was caused by the icy road and people driving too fast.