Extreme Temperatures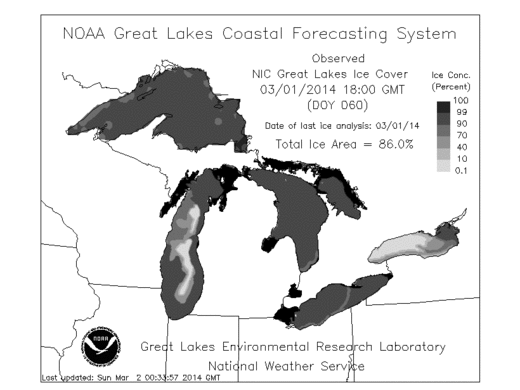 Lake Ontario is the only major holdout, and the forecast there is for extreme cold during the next two weeks.
---
Nick Wiltgen and Jonathan Erdman
Wunderground
Mon, 03 Mar 2014 00:00 UTC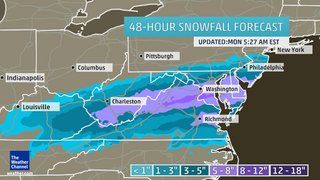 Thunder and lightning with snow, sleet and/or freezing rain reported in at least eight states
Snow pushes through Middle Atlantic and Central Appalachians into Monday afternoon, tapering off by evening.
5+ inches of snow in Washington; 1 to 3 inches in Philadelphia; Little to no accumulation in New York City.
Winter Storm Titan will deliver its final round of winter weather to parts of the East on Monday.
Here are the latest forecast details.
48-Hour Snow Forecast Power Outage Potential Monday AM Forecast Monday PM Forecast Snow, Ice Impacts
---
HawkkeyDavis Channel
YouTube
Sat, 01 Mar 2014 14:10 UTC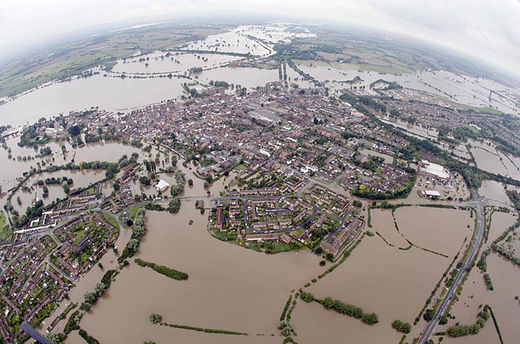 Heavy snowfall in Europe causes misery - 6.0 earthquake in Greece, followed by a 6.1 a week later - More fireballs - Mt. Etna eruption - Deep freeze in America, heavy snowfall in south East, children stranded in schools - Bizarre tumbleweed invasion in Mexico - Massive floods in Italy, 2 meters of snow in the north - Indonesia volcano eruption kills 16 people - Heaviest snow in 50 years in Iran, 1.5 meters - 400 dead dolphins in Peru - Blizzards turn Slovenia to ice, and disrupt Serbia Croatia, Germany - 30 ft sinkhole in Buckinghamshire - Britain battered by a swath of storms, causing yet more extreme flooding, worst in 250 years - Blizzards blast north west US, while california suffers heavy flooding - Worst snowstorm in Japan in decades kills 13 people, heaviest in 78 years - Huge sinkhole swallows car museum - 130 year record broken for storms in Philadelphia - 49 out of 50 states covered in snow - Another eruption on Java island, Indonesia leaves 2 people dead - Carolina earthquakes - 103 earthquakes in Oklahoma. Mysterious boom in Philadelphia blows out windows - New jersey lake turns blood red - 22 Tornadoes strike states in Midwest...
Recent storms worldwide have been destroying records with an onslaught of precipitation leading to more 100 year events which devastated populated areas. This video includes rare, strange and extreme weather that had taken place over the last month or so and it's not getting any better since my last upload, it only worsen!
*This series does not mean the world is ending! These are documentaries of series of extreme weather events that are leading to bigger earth changes. If you are following the series, then you are seeing the signs.
---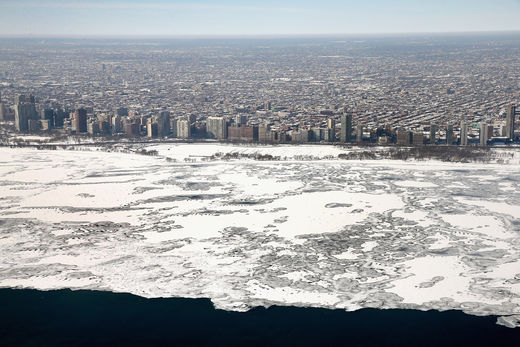 Shannon Frauenholtz has had it with winter. Barely able to stomach the television news with its images of snowbound cars, she heads to the tanning salon, closes her eyes and imagines she's back in Mexico, where she's already vacationed once this winter.
She's toyed with the idea of joining her mother in Hawaii or just driving to an indoor water park, figuring that while the palm trees might be plastic and the "beach" smells of chlorine, at least it's warm.
"I don't need a vacation. I don't need the relaxation," said Frauenholtz, of New Ulm, Minn. "I just need the heat
.
"
All over the Midwest and the East Coast, travel agents are being inundated with a simple request: Get me out of here. And travelers fortunate enough to have escaped are begging hotels to let them stay a little longer.
---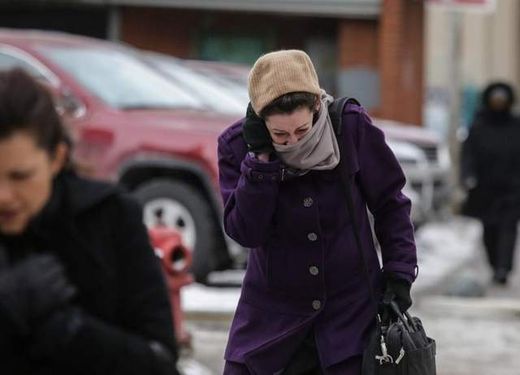 Some Michigan schools are closed as record-breaking subzero temperatures plunge much of the state into a deeper freeze.
Detroit reached zero degrees, a smidge from the record of -1 degrees set Feb. 28, 1994. Flint, Saginaw and White Lake all broke records also set that year, according to the National Weather Service. White Lake got coldest overnight, at -18 degrees.
It's the most frigid winter in recent memory, and it isn't going anywhere yet.
"We're kind of locked and loaded in this pattern where we get these storms coming through, at least for the next week," weather-service meteorologist Deb Elliott said. "None of the data I'm looking at shows us warming up to normal, average temperatures this time of year."
The average temperature in Detroit this time of year is about 35 degrees, she said.
Wind chill advisories are in effect, and Detroit Public Schools are among those affected by closings. The high in Detroit today is expected to be in the teens.
---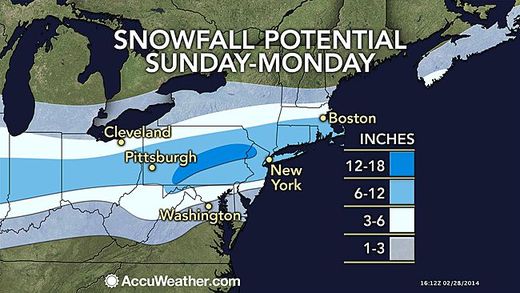 March may not come in like a lion everywhere across the nation, but winter will roar during the first several days of the month and impact more than 100 million people.
Snow will expand from the northern Rockies and central Plains to portions of the Midwest this weekend, reaching the Northeast early next week.
The adverse winter conditions will develop Friday into Saturday over the Plains and is forecast to shift slowly eastward Sunday and Monday.
People traveling by road or airways should expect major long-lasting delays as this area of snow expands eastward and crawls along.
---
---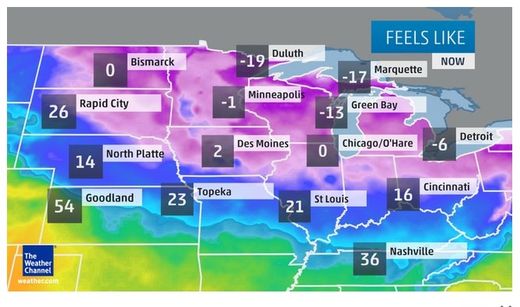 70 Days With Subzero Temperatures
The number of days with subzero temperatures has reached record or near-record levels for many Midwest cities this winter. We have the rankings for several of these cities, starting with two locations that will log day 70 of subzero temperatures on Friday.
Note: A subzero day is one where the temperature fell below zero at any one point during a particular calendar day.
International Falls, Minn.
Number of subzero days this winter: 69 through Feb. 27
Friday will mark day number 70, tying the all-time record for the period of Dec. 1 to Feb. 28 set in 1977-1978.
---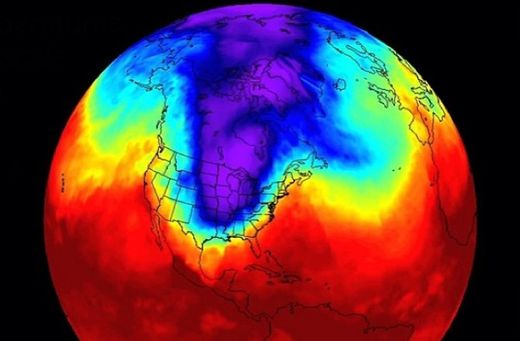 NASA today released this image of the polar vortex, the weird atmospheric twitch that flooded into the United States last month. The purple wavy line above that wanders down from the Arctic shows the below-average temperatures that set cold records in many states.
From NASA's Facebook page:
"The Big Chill - Blistering cold air from the Arctic plunged southward this winter, breaking U.S. temperature records. A persistent pattern of winds spins high above the Arctic in winter. The winds, known as the polar vortex, typically blow in a fairly tight circular formation. But in late December 2013 and early January 2014, the winds loosened and frigid Arctic air spilled farther south than usual, deep into the continental United States. On Jan. 6, 2014, alone, approximately 50 daily record low temperatures were set, from Colorado to Alabama to New York, according to the National Weather Service. In some places temperatures were 40 degrees Fahrenheit colder than average."
---
Elizabeth Landau and Ben Brumfield
KCRA
Tue, 25 Feb 2014 08:35 UTC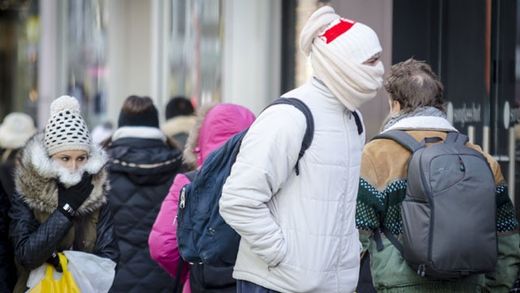 Don't pack away those winter coats and hats yet!
We're in for another blast of cold Arctic air, which is gearing up to roll across most of the country this week, but it won't be as bad as the shocking freeze in January.
The National Weather Service says some places from the central U.S. to the Ohio and Mississippi Valleys could be having some frosty high temperatures, as low 20 to 30 degrees below normal.
If you call it Polar Vortex Part II (or III or IV), meteorologists say you'd be wrong -- nor was the first big cold spell of 2014, strictly speaking, a strike of the Polar Vortex.
The Polar Vortex stays anchored over Baffin Bay, to the north of Canada, and doesn't move, says CNN meteorologist Sean Morris. But its shifting pattern allows cold Arctic air to spill southward into the United States.
"When it weakens, this allows the cold Arctic air that is often mislabeled the "Polar Vortex" to spill southward across the U.S. border and bring us bone-chilling temperatures," Morris explained.
---