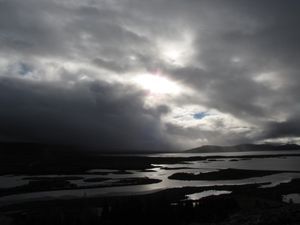 Many cultures recalled a period of unbearable cold, which they associated with a distant mythical age of 'creation', when the sun did not yet shine or fire had not yet been obtained.
Such tales are hardly surprising for higher latitudes, such as the Viking sagas of Iceland, but present a palaeoclimatological puzzle elsewhere.
For example, the Cherokee (originally along the Tennessee), who should be quite accustomed to climatic extremes, claimed that the first fire was confined to a special tree - arguably an
axis mundi
- at a time of lasting cold:
'In the beginning there was no fire, and the world was cold, until the Thunders (Ani´-Hyûñ´tikwalâ´ski), who lived up in Galûn´lati, sent their lightning and put fire into the bottom of a hollow sycamore tree which grew on an island. ... This was a long time ago. ... still there was no fire, and the world was cold ...'
Eventually, mythical beings succeeded in acquiring the fire. At tropical latitudes meanwhile, the Quiché Maya (Guatemala) related that their first ancestors were overcome by circumstances most peculiar for central America:
'After that a great downpour began, which cut short the fire of the tribes. And hail fell thickly on all the tribes, and their fires were put out by the hail. Their fires didn't start up again. ... And so again the tribes arrived, again done in by the cold. Thick were the white hail, the blackening storm, and the white crystals. The cold was incalculable. They were simply overwhelmed. Because of the cold all the tribes were going along doubled over, groping along ...'
And the Bibbulmun nation (southwestern tip of Australia) referred to the 'Dreamtime' or the 'ancestral' time (
Demma Goomber
) as the 'Nyitting times, the cold, cold times of long ago'. As the name says, the Bibbulmun qualified this past era as one dominated by unprecedented cold - and, consequently, by a savage mode of living:
'In that far-off time Australia was not so warm and congenial as it is to-day. It was cold and bleak, and great glaciers of ice covered many of its hills and valleys. ... "the icy cold (nyitting) times of long, long ago". Now, in an icy cold country one must have fires, but there was a time when the Bibbulmun people had no fires, and they had to eat their meat raw and drink the blood of the animals they killed to warm their bodies.
The theme of a cold epoch meshes with the notion of 'primordial darkness' reported universally to have preceded the formation of the present natural environment. Another associated motif is that the embryonic earth was excessively muddy and wet, a necessary consequence of the earth's putative original submersion in primeval waters. In addition, the moist earth is often linked with the aftermath of the deluge and the first appearance of humans and the sun. Though scholars never seem to have compiled the material, let alone considered it, the literature is awash with examples. A selection follows.